Kempegowda International Airport
Kempegowda International Airport, Bengaluru (BLR Airport) has the unique distinction of being the first Greenfield Airport in India, established on a Public-Private Partnership (PPP) model. This heralded a revolution in Indian aviation as more airports in the Country were privatised, thereafter. In January 2001, Bangalore International Airport Limited (BIAL), formed under the Companies Act, 1956, was incorporated to build, own and operate BLR Airport for a 60-year concession period. Private promoters hold a 74% stake (Anchorage Infrastructure Investments Holdings Limited: 43.64%; FIH Mauritius Investments LTD: 13.36% and Siemens Projects Ventures: 17%), while the Government (Karnataka State Industrial & Infrastructure Development Corporation Limited: 13%; Airports Authority of India: 13%) hold the remaining 26%.
BLR Airport commenced operations on May 24, 2008 – 33 months from the start of construction. The Airport has seen unprecedented growth in passenger volumes having served over 33 million passengers in 2019 and becoming the one of fastest-growing Airports in the world. As the busiest Airport in South India and the third largest in the Country, BLR Airport achieved a significant milestone in June 2022 by crossing the 250 million passenger mark since the launch of its operations or Airport Opening Day (AOD).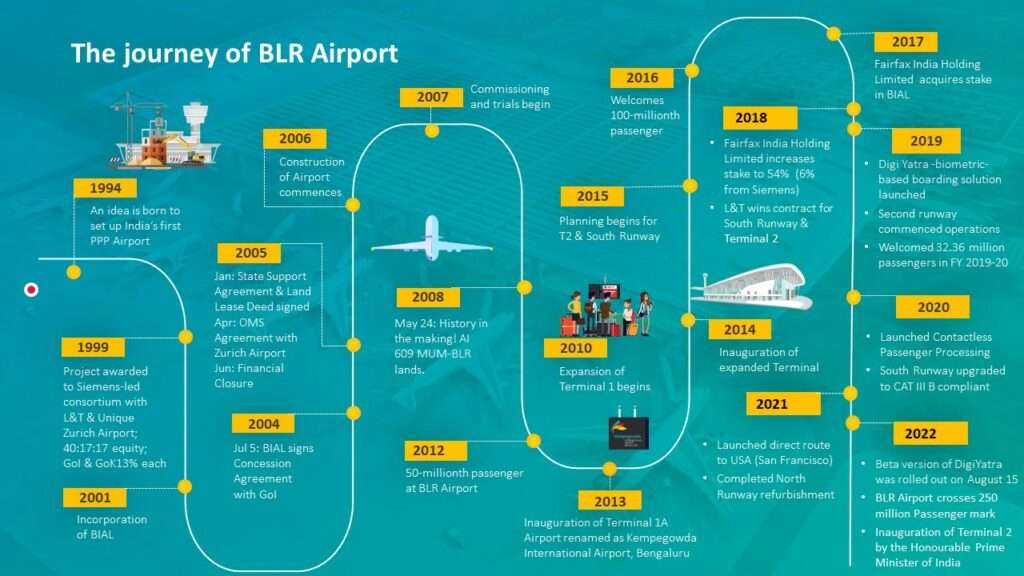 Awards & Recognitions
2023
Best Airport at ACI's ASQ Arrival Survey Globally for the year 2022
Second best airport globally in 2022 for on-time arrivals and departures by Cirium.
2022
ACI's 'Voice of the Customer'
ACI's Green Airport Recognition – Carbon Management (Platinum Award)
IOD Golden Peacock Award for Sustainability
Karnataka State Environment Award
Significant Achievement in HR Excellence at the 12th CII – HR Excellence Awards – 2021-22.
Best Cargo Airport at India Cargo Awards
Best Airport and Aviation Innovation Award at Wings India Awards 2022
PEER Platinum Certification by Green Building Certification Inc
ISO standard certifications: ISO90001:2015 (Quality Management System) | ISO14001:2015 (Environment Management System) | ISO45001:2018 (Occupational Health & Safety) | ISO50001:2018 (Energy Management Systems)
2021
FICCI Smart Urban Innovation Award for Solar & Renewable Energy
Best Airport by Size & Region for 25-40 Million Passengers Per Annum at the ACI-ASQ Awards 2020.
ACI's 'Voice of the Customer'
Golden Peacock National CSR Award 2020 from the Institute of Directors for Namma Shikshana
ACI Director General's Roll of Excellence
Most Innovative Environmental Project & Most Useful Environmental Project Awards 2021 at the 8th CII National Award for Environmental Best Practices 2021 under the Climate Change Impact Mitigation and Adaption category
Global Finance Sustainable Finance Awards 2021 in the category of "Outstanding Leadership in Resource Management – Corporate" for the Asia-Pacific region
Best Airport Staff in India & Central Asia' at Skytrax World Airport Awards 2021
CII DX Award 2021 in the Most Innovative Category for Project Digitalisation of Infrastructure Development in Bengaluru Airport City
CII Award for CUSTOMER OBSESSION – 2021
2020
Best Greenfield Airport, Cargo at India Cargo Awards
Best Regional Airport in India / Central Asia from Skytrax
ACI-ASQ Awards for both Arrivals and Departures for 2019
Best Airport by Size and Region
Best Environment and Ambience by Size
Best Customer Service by Size
Best Infrastructure and Facilitation by Size
Best Airport Experience in Arrivals
Fastest Growing Cargo Airport of the Year 2019 (India Region) at the Air Cargo India awards
Moodies Award for Best CSR/Cause Advocacy
Certified Great Place To Work (GPTW)
Winner of 'Best Use of Integrated Communications' for #PlasticBeku campaign at Fulcrum Awards 2020
2019
Golden Peacock Award for HR Excellence
Emerging Cargo Airport of the Year 2018 at Air Cargo India 2018
ACI-ASQ awards for both Arrivals and Departure
Golden Globe Tigers 2019 Award for Social Media Marketing
Retained ACI Level 3+ Carbon Neutrality for three-year cycle
Best Airport Aviation Marketing at the India Travel Award South 2019
Selected as CII GreenCo Star performers
Tops ACI-ASQ Quarterly Arrivals & Departure Survey for April to June 2019
Best Airport at ASSOCHAM Awards on Civil Aviation & Cargo
E&M wins 14 gold medals at the 28th Chapter Convention on Quality Circles – CCQC 2019
Rated by ACI as the fastest growing Airport in the World in 2018 (15 million annual passenger category)
Rated as Most Sustainable Airport at International Airport Review Awards
Runner-up in Outstanding Renewable Energy category at the Indian Federation of India Green Energy Award -2019
2018
Ranked # 16 among the top 50 Companies across industries by the Times Ascent-Dream Companies to Work For
Ranked #1 by the Times Ascent-Dream Companies to Work For in the Airlines and Aviation sector
Best Employer Brand for Managing Health at Work: for implementing the best health initiatives for employees
Commendation for Strong Commitment to HR Excellence at the at the 8th CII – HR Excellence Awards
Emerging Cargo Airport of the Year for India at the STAT Trade Times International Awards for Excellence in Air Cargo
Won the SKYTRAX Award for being the best Regional Airport in India and Central Asia in 2017
Named Second Best Airport in the World in 15 to 25 million passengers per year category at the ACI ASQ Awards
ARFF and Aviation Safety received the Special Jury Award at the national level Safety Competition conducted by CII in Chennai.
BLR Airport was rated as the Best Airport at the DDP India Travel Awards
Recognised as the Best Airline Marketing team
BIAL was recognised as the Corporate Citizen award at the Rotary Bangalore Mclver Awards
Special Commendation by the Indian Society for Training and Development at the ISTD National Awards for Innovative Training Practices for capability building initiative under Project UTSAHA
KIAB tops ACI-ASQ Quarterly Arrival Survey among participating Airports
Recognition of Service to Society at Karnataka Tourism Awards 2018, recognised by the Ministry of Tourism & FKCCI
BIAL Landscape Department wins Best Ornamental Garden 2018 at the Lalbagh Horticulture Show
Received Energy Efficient Unit award in the 19th National Energy Award for Excellence in Energy Management
Runner up in "Outstanding Renewable Energy User" in Service sector at India Green Energy Awards 2018
Bags Best Cargo Airport 2018 at the India Cargo Awards-2018
2017
Times Ascent – Dream Companies to Work for, rank 12 among the top 75 Companies across industries
BBC Knowledge – EVP (Employee Value Proposition) HR Superstars
Global HR Excellence Award for Managing Health at Work
Best Regional Airport in India & Central Asia, SKYTRAX
Golden Peacock National Training Award
Level 3+ Carbon Neutrality, ACI
'Model Employer' Award by the Ministry of Labour & Employment, Government of India
Emergency Management System, CII National Safety Practice Award
Favourite Airport for Holidays by HolidayIQ
CII Customer Obsession Award customer engagement service in large business organisation
Best Cargo Airport – West & South and Best Airport Cargo Marketing Team – West & South, India Cargo Awards
2016
Ranked 28 among Top 50 Dream Companies to Work for, World HRD Congress
Ranked amongst the Top 5 for Managing Health at Work, World HRD Congress
Emerging Cargo Airport of the Year at Air Cargo India Awards
GreenCo platinum by the GBC of Confederation of Indian Industry (CII)
Samman Patra award for the year 2015-16 by the Central Excise, Customs & Service Tax Department, Department of Revenue, Ministry of Finance, GoI
Clocks 100 millionth passengers in 8 years of operations
Best Airport in South India at the South India Travel Awards
Best Aviation Marketing team at the South India Travel Awards
'Airport of the Year-Cargo' at the 8th South East Cargo & Logistics Awards
Best maintained Landscape Garden by the by The Mysore Horticultural Society
2015
World HRD Congress award for Dream Company to work for in the Airlines and Aviation sector
SKYTRAX award for Best Regional Airport in Central Asia
Public Relations Council of India (PRCI) Awards for PR case study for AERA determination, Pinnacle event and corporate AD for CII annual summit book
Bhaskar Bodapati awarded "Roll of Honour" under the 'Fund Manager' category, CFO100
'Best Airport' and Best Aviation Marketing Team at the South India Travel Awards
Runner-up in the Airport Traffic Growth Awards in the 10m-20m passenger traffic category in Asia, Asian ANNIES Airport Awards
Gallery